Nederlands:
Jeroen is een eigenzinnig dichter die lekker zijn eigen gang gaat. Hij is lid van het Wijker Dichtersgilde en samen met de andere dichters van het gilde onderneemt hij zo nu en dan spraakmakende projecten. Jeroen is in 2012 gedebuteerd met zijn gedichtebundel 'Verloren uurtjes' en hij (her)vertaalde het ballade gedicht 'Lenore' van G.A. Bürger met het idee daar een tweetalige opera van te maken.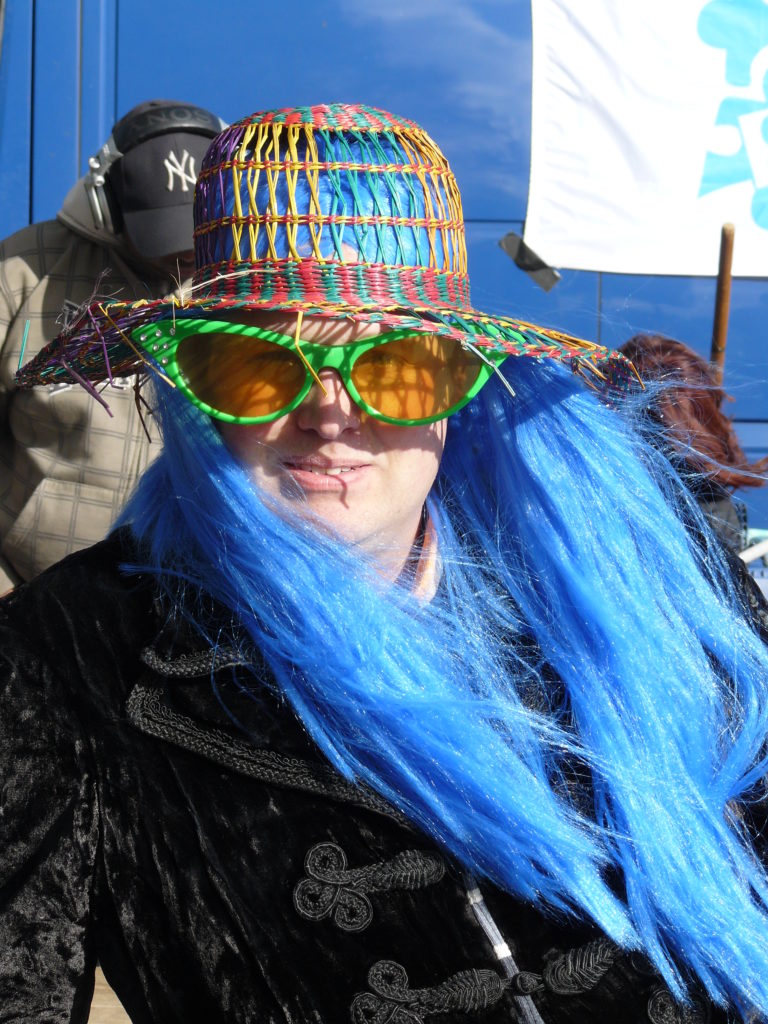 English:
Jeroen is a wayward poet whom does things his own way. he is a member of the Wijker Dichtersgilde (local poetryguild) and with the other poets he now and again participates in much talked about projects. Jeroen published his first poetry bundle 'Verloren uurtjes' (The Little Lost Hours) and (re)translated the ballad poem 'Lenore' by G.A. Bürger with the thought of turning it into a bi-lingual opera.
–
____________________________________________________________________________
Gedichten: / Poetry:
° Gepubliceerd/Published in: Verloren uurtjes
* Elders gepublisheerd/Published elsewhere
1995:
Mother of the House (English)
1996:
Eenzaamheid in drie bedrijven°
Ter nagedachtenis aan aan mijn overgrootvader Jelle Bakker
1999:
Shadows (English)
Zet de knoppen voor 't hart van de zon (Vertaling/Translation, orig. Pink Floyd)
2001:
Krom Recht°
2002:
I am (English)
Luna Miserabilis (English)
2003:
Depression (English)
2004:
My Darkest Thoughts (English)
The true you (Deep Inside) (English)
2006:
Birth (English)
De Vogel en een Kind°
2007:
Koninkrijk Gods°
2008:
Engel Gods°
Stilte en Vrede°
The Priceless Ship (English)
2009:
Mijn waarde Sara
Aalmoes
2010:
Beverwijk in de Vernie(l/uw)ing
De Bloem en het Heertje°
De Goede Raad°
Stedenband anno 2010
Maandagochtend paniek°
Ode aan de Bever met de microfoon
Wat ik niet weet wat mij geschied
Wittestad over de duinen°
2011:
Ode to Whisky
De anonieme reiziger°
De verdwaalde tourist
Des Vollemaansgenootschap° (Live @Nacht van de Nacht 2013)
Er klinkt kwaak in de Wijk
Het Dilemma 'MENS'°
Die Wijcker Duinjaghers°
International Whisky prayer (English)
Jouw fontein mijn oase°
Prenten kabinet (v.d. Linden)
Romantische spruitjes°
Vrijheid is vrij maar niet vrijblijvend°
Waar is toch die tijd gebleven
Wat eens was is niet meer
2012:
131 centen wie bied meer?
Buiten raast
Cultuur in de Wijk
De Droom
De Eenzame Piramide
De Serpent in schaapskleren
Do et Dus
Hoe lang geleden
Hoop (Vertaling/Translation, orig. Anathema)
Ik ben de ketting
Persgedichtje*
Kaft gedichtje°
Sint Maartens vuur
Tuned for Space
Wethouder Piet
Dik en Dun
LVIAHE*
2013:
Delirium*
Façade* (Vertaling/Translation, orig. Tilo Wolff – Lacrimosa)
Racisme
Wat 'n Wereld
Untill all are one (The Ballad of Optimus Prime) (English)
Herinnering (@Wijk aan Zee beach)
Wittekool*
Rozen van wanhoop
Beatrix
Het leven
2014:
Dromen van Wijk aan Zee (Gepubliceerd/Published in 'Andermans Ogen / Through the eyes of others')
Lenore (Vertaling/Translation, orig. G.A. Bürger)
Nacht van de nacht
De dag ten einde
Plane down (English)
Destruction of the self (English)
Beverwijk wat tijden!
2015:
… de Rode Draad
Op zoek naar de markt (251TV item)
Duin (251TV item)
Nah Neh Nah (Vertaling/Translation, orig. Vaya con Dios)
Ode to Eurythmics (English)
2016
Senryu – Levende Aard
Senryu – Getergde Ziel
Mevrouw Duin, een icoon* (Voor/For 'Dichter bij Dementie')
Politiek?
Datum onbekend: / Date unknown:
Haiku – Je raakt …
Met de deur
De Meesterzet
____________________________________________________________________________
Eigen vertalingen/Homemade translations:
2006:
Het licht aan het einde van de tunnel (orig. Birth) (Nederlands)
2012:
Tuned for Space (orig. Tuned for Space) (English)
2013:
Dilirium (orig. Delirium)
2014:
Loneliness in three acts (orig. Eenzaamheid in drie Bedrijven)
Blinded law (orig. Krom recht)
The bird and a child (orig. De Vogel en een kind)
Kingdom of God (orig. Koninkrijk Gods)
Angel of God (orig. Engel Gods)
Silence and peace (orig. Stilte en Vrede)
The flower and Master Willy (orig. De Bloem en het Heertje)
The Good Advice (orig. De Goede Raad)
Monday morning panic (orig. Maandagochtend paniek)
Scheepsvrienden (orig. The Priceless Ship) (Nederlands)
White city over the dunes (orig. Wittestad over de duinen)
The anonymous traveller (orig. De Anonieme Reiziger)
The Full moon society (orig. Des Vollemaansgenootschap)
Dilemma 'HUMAN' (orig. Het Dilemma 'MENS')
Die Wijcker Duinjaghers (orig. Die Wijcker Duinjaghers) (English)
Your fountain my oasis (orig. Jouw fontein mijn oase)
Romantic sprouts (orig. Romantische spruitjes)
Committed Liberty (orig. Vrijheid is vrij maar niet vrijblijvend)
Dreaming of Wijk aan Zee (orig. Dromen van Wijk aan Zee) (Gepubliceerd/Published in 'Andermans Ogen / Through the eyes of others')